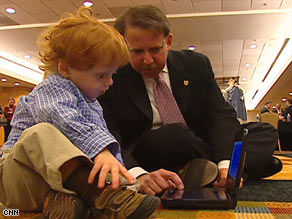 Steve Karas and Matthew Welling share a special bond.
Matthew Welling, left, received a bone marrow transplant from Steve Karas, right.
It turned out that Karas, 51, of Newton, Massachusetts, was a perfect match.
"My heart went a hundred miles an hour, and I couldn't even conceive of what this meant," Karas recalled.
He had signed up for the National Marrow Donor Program registry 17 years ago and had never given it another thought.
The call to donate came out of the blue.
Karas remembered hearing, "It was a little 1-year-old boy with this horrible disease called osteopetrosis, and the only cure was a bone marrow transplant, and would I be willing?"
He said there was no other answer than "of course."
Read the rest of this story here.